Description
جزمة ماركة اون راننج رجالي  | On Running Cloud X 3 Shift Denim Eclipse
Introducing the On Running Cloud X 3 Shift Denim Eclipse, the ultimate shoe for individuals who are always on the go. Designed to cater to the needs of the most energetic personalities, this shoe is the epitome of versatility, comfort, and street-worthy style. Crafted with precision, this stylish sneaker features a premium denim upper that adds a touch of elegance to your everyday look. The Eclipse colorway provides a sleek and modern vibe that complements any outfit. The CloudTec® sole technology ensures a smooth ride with every step, making it perfect for running or any other high-intensity activities. The engineered mesh upper and sock liner offer unmatched breathability and a snug, comfortable fit.
Created to keep up
Look good. Do good.
From studio to street
جميع احذيه اون رانيج تاتي بعلامة سويسرا 🇨🇭.
 يتوفر من الموقع الرسمي الأصلي
متوفر شحن لجميع انحاء المملكة العربية السعودية ودول الخليج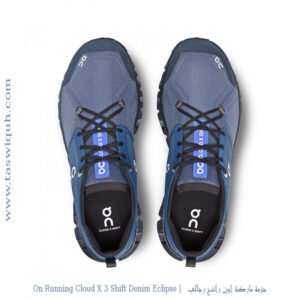 الطلب اونلاين بكل سهولة والدفع الكتروني بالطرق الامنه
ابل باي / مدى / بطاقة ائتمانيه / تحويل بنكي
يمكنك الدفع بعد الاستلام عند اختيار الدفع الاجل عن طريق تابي او تمارا ايضا يوفرون نظام التقسيط بدون اي رسوم
منتجاتنا اصلية 100 % وماركات اوروبية ويتم شحنها من اوروبا
في شحن سريع وعادي واقتصادي ومجاني
السريع 6 الي 9 ايام عمل
العادي 11 الي 12 يوم عمل
الاقتصادي 13 الي 19 يوم عمل
المجاني عند الشراء ب 790 واكثر