Description
EFX Final Bullet Pre Workout Powder
Get ready to take your workouts to the next level with EFX Final Bullet Pre Workout Powder. Designed to enhance concentration levels and performance during exercise, this powerful formula delivers a range of benefits to help you achieve your fitness goals. One of the key components of this pre workout powder is its powerful electrolyte matrix. This matrix helps to regulate muscle and nerve function, as well as fluid balance, helping you to perform at your best during even the most intense exercise sessions. In addition to its electrolyte matrix, EFX Final Bullet also contains a range of nootropics and focus-enhancing compounds. These ingredients have been carefully selected to help you stay focused and alert during your workouts,
It Is Available From The Original Official Website
What Are The Countries You Ship To
  Saudi Arabia | United Arab Emirates | Bahrain | Kuwait | Oman | Qatar
Powerful Electrolyte Matrix: These important components help regulate muscle and nerve function, and fluid lost during intense exercise.
Nootropics and Focus Matrix: These are used to enhance concentration during exercise so athletes achieve higher levels of performance.
Power and Muscle Pump Matrix: These world-class compounds target muscles to promote greater strength and increased blood flow.
Antioxidant and Cell Boost Matrix: Advanced athletes know the importance of removing free radicals and toxins to improve overall body function. Plus, healthier cells are necessary for long-term performance and recovery.
Weight :
360g – (30) Servings
Available flavours:
Fruit Punch – ends on: (09/2025)
Nutritional values: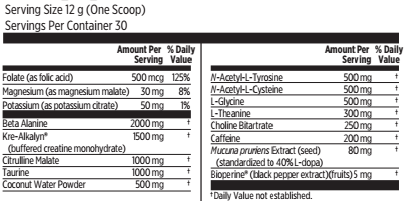 How to use:
Take one serving (1 scoop) , mixed with 6 fl. oz. of water 20-30 minutes before training.
Some individuals may experience a harmless tingling sensation, which is attributed to beta alanine.
Use only as directed.
Warnings:
Sold by weight, not volume.
This product is to be used as a food supplement only. It is not used for weight loss.
Keep in a cool, dry place.
keep away from the reach of the children.
Not intended for use by pregnant or nursing women.
Company intro:
EFX's journey started back in 2005, focused on what they call a "Dock-To-Dock Initiative", which focuses on creating a culture of excellence infused with a massive amount of team pride in their manufacturers and company to bring out innovative sports supplements.